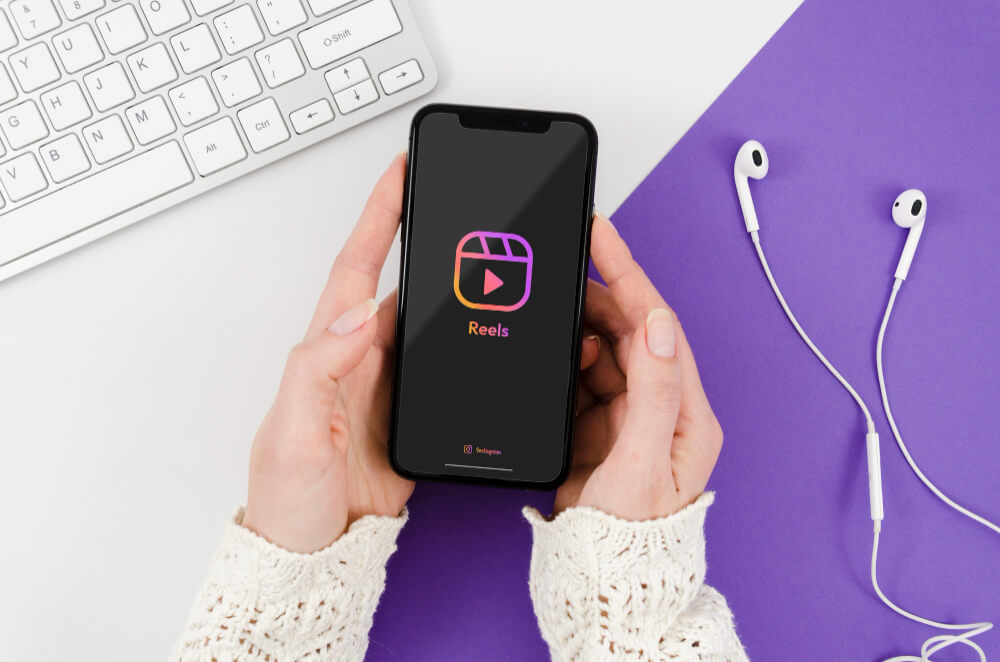 In the past two years, Instagram has been focusing on short videos. All the tools to shoot and edit videos: filters, effects, music libraries are available on the social network. But even high-quality and interesting Reels can be left without views.
To get your videos watched, we recommend using the proven tricks we are going to discuss in this article.
For Reels, it is important that followers' views get into the statistics first. It is not enough for bloggers to simply shoot and load a video. Firstly you need to  interest your followers, motivate them to watch Reels, repost and react. Getting into the recommendations and reaching a wide audience will depend on this activity.
Therefore, try to make videos that correspond to the topic of the blog. People subscribe to your page precisely because they are interested in the content. Reels on abstract topics go against the expectations of the audience. Interest in the blog may be lost. If your page is about building houses, you don't need to publish videos about cars. 
Also, you can use the trick and get the first views with the help of special services. For example, order views through the TapLike service. But if you use such services, it is important that views grow gradually, without sudden jumps.
Also, for reliability, it is better to order additional activities, such as likes, reposts and comments.
Users see Reels in their feed or recommendations. But the most active audience watches stories first of all. The number of views of Reels increases when you post them in stories. The system counts the viewing of stories for the video. Therefore, in order to increase the number of views from followers, you need to repost Reels in stories.
To encourage a click to view Reels, add interesting text. Write what the video will be about, why you should open it.
Call to action for followers
Ask followers to repost your Reels to their stories, save bookmarks, leave comments and likes. The more active followers interact with the post, the higher the chances of being recommended and increasing the number of views.
A call to action can be voiced or placed in the Reels description.
You can advertise your products and services with the help of bloggers and influencers. Invite popular bloggers to record Reels with your products or repost the finished video.
The blogger's followers are a loyal audience that trusts the influencer's opinion. With a high probability they will watch the Rils to the end or subscribe to the page.
If you order paid publications, carefully check bloggers. Pay attention not only to the number of followers. The audience must be active. See how many likes and comments posts get.
If there is no activity on the page, most likely, they used to cheat with the number of followers here. Such ads will not help you move forward and get more views.
Collaboration with other bloggers
For collaborations, choose bloggers from similar thematic niches. Or collaborate with authors who are popular with your target audience. If you blog about fitness, you can record a series of videos with a nutritionist.
If you are promoting a bookstore, offer cooperation to a blogger who reviews new literature.
Create collaborative Reels
Joint Reels with other bloggers also help to promote on the social network and attract new followers. To collaborate, look for pages that have roughly the same number of followers as your account.
All co-authors of the video will increase reach, get additional likes and comments. Therefore, many authors are willing to do joint Reels for free.
To engage viewers in content, you need to grab and hold their attention. That's what writers and showrunners do. Divide useful material into logical parts and make a mini-series in Instagram Reels.
In the description of the video, do not forget to say that there are more interesting videos on your page. You motivate users to go to the account and open Reels.
Create Reels on current topics, use popular effects, music and hashtags. Bloggers of any subject need to follow trends. Popular tracks and effects will help to attract the attention of viewers even to highly topical content. 
How to choose popular hashtags:
– recommendations – click on the magnifying glass icon at the bottom of the page, enter a search word and open the hashtags tab. 

– popular reels – select videos of the desired topic and see what hashtags the authors used.
Come up with your killer feature
Followers remember non-standard presentation of information, original design and individual style of videos. Come up with your own feature that will distinguish you from other bloggers.
Statistics will help you understand what topics and video formats are of interest to your subscribers. You can adjust your content plan to get more views.
Pay attention to which videos the audience watches better, which Reels get more responses. Create more of this kind. But don't stop experimenting. Try new formats and ways of presenting information, launch challenges.
The interests and preferences of subscribers change over time. By tracking statistics, you will be able to offer relevant content.
Analysis of statistics will also help determine the best time for posting. See when videos get the most views during the day and post Reels at that time.
Post Reels that fit the overall theme of the blog. This is necessary so as not to "confuse" the algorithms and keep the attention of the audience.
Social network algorithms remember the thematic focus of content and recommend it to the target audience. Beauty masters want to watch cosmetics reviews, and TV series fans want to watch movie industry news.
If the topics of the videos are noticeably different, the algorithms do not understand which area to attribute your Reels to. The chances of getting recommended are reduced.
In order for videos to gain a lot of views, they must be unique, high-quality and dynamic. Catchy covers for Reels are also important.
Instagram is actively promoting unique content created specifically for the social network. That's why you should not post videos from other media, especially with watermarks.
Such Reels are poorly ranked by algorithms, only a few viewers will see them.
You can make high-quality videos without expensive equipment – a good camera on a smartphone is enough. Choose interesting locations for creating.
For example, if you have a clothing showroom, shoot videos with models not only indoors, but also outdoors, in popular places in the city.
Before viewing, the user looks at the covers of the videos. A single design style will help to attract attention and gain views. As a cover, you can set a frame from a video or a photo from the gallery.