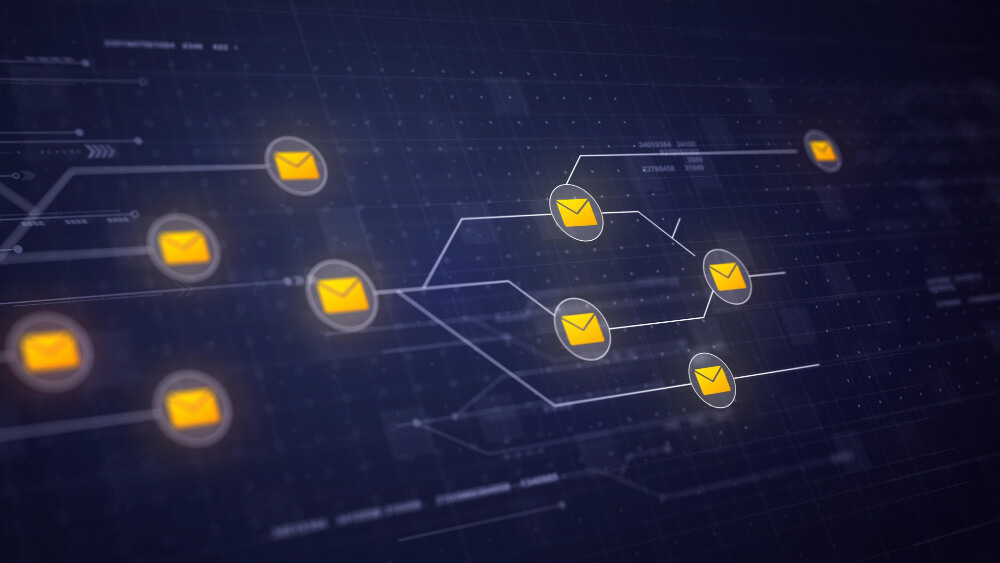 Email marketing is often associated with large and medium-sized businesses that have large client bases and serious budgets. In fact, email newsletters are an affordable and effective communication tool for small companies as well.
With moderate investment, they bring a decent profit.
Let's have a look at the benefits of email newsletters for small businesses and how to launch this communication channel.
Benefits of email marketing for small businesses
Moderate costs. Email newsletters do not require a large budget. In the maximum case, the costs will include the following items:
     

Email Service Provider payment (ESP);

     

Email marketer salary

     

Services of a making up of letters;

     

Designer services.
The cost of using an ESP can increase over time as your customer base grows. On the other hand, many services offer a convenient Drag&Drop editor, which allows you to save on the work of the layout designer and designer.
An email marketer will use an editor that will meet the requirements of email clients and look beautiful to create a message.
USP promotion. One of the advantages of small businesses over large companies is Unique Selling Propositions.
The buyer will make a choice in favor of the seller who will be able to interest him with an unusual niche assortment, a favorable price, and a non-standard, memorable design. Indicate your features to customers by focusing on them in mailings.
The more unusual and memorable your e-mails are, the higher the chances that subscribers will read them and maybe even share them with friends.
Growth in repeat sales. It is cheaper to retain an existing customer than to attract a new one. Emails successfully generate repeat sales.
Set up trigger mailings, such as gratitude for registration, for a purchase, or a request to leave a review about a purchased product/ordered service.
This pushes the customer to visit the site, where other offers may grab their attention, leading to a new sale.
Reviews from other customers also can be used in User Generated Content mailings to encourage a purchase. People are always interested to know the opinion of successful buyers about the goods that they are just about to order.
It will help to avoid some of the doubts associated with the quality of goods, or make sure the company is honest and good service.
Assisted Conversions. Part of the purchases customers will be made through email newsletters, but associated conversions are equally important.
The buyer in this case does not make a deal immediately from the e-mail, but the channel has a direct influence on his thought process. For example, it takes time to make a purchasing decision when an expensive product or service is being sold.
A person can go from the email to the landing page, where he reads the details of the offer and decides to spend money.
Conditions for launching an email campaign
There are several strong requirements that must be met in order to successfully launch an email campaign. Let's consider each of them in detail.
1. Build a contacts database
The first thing you need to do when implementing email marketing is collecting a customer base. All email addresses must be obtained from people along with their consent to receive emails. To do this, set up a subscription with Double Opt-in. Double confirmation will protect your newsletter from getting into spam. The user leaves the email address in a special form, and after sending the data, he must go to his mail, find the subscription confirmation letter and approve it by clicking on the button or following the link.
Gathering your own customer base will take time. You can get contacts like this:
     

using the subscription form on the website, landing pages, social networks;

     

from orders placed on the site;

     

during offline sales.
The second and third options require further confirmation. The subscription form can be pop-up or static. The appearance of a pop-up is configured according to various conditions: the time spent on the site, viewing a specific page, when trying to close a tab, etc. And the static version is placed in any convenient place on the page.
You need to come up with an attractive motivation to make people want to leave their emails. For example, offer a discount on a purchase after a subscription, free shipping, a gift, or something more interesting.
Don't buy someone else's customer base. Mailing through it is fraught with problems. Firstly, it will ruin the reputation of the sender and your domain may end up on the spam list.
2. Choose a mailing service
Find out which email marketing platforms (ESPs) are on the market. Sign up for a few of them and see what tasks they help you solve.
Pay attention to how clear the interface is for you, whether there are ready-made email layouts, and whether it is convenient to create an email from scratch. Evaluate the mailing statistics you can get from ESP.
When you understand what functionality you are missing in the service, find out about the possibility of integration with third-party programs.
3. Make adjustments to the site
At the initial stage of email marketing, you need to involve a programmer who will make the necessary settings on the site. His help will be needed to automatically collect contacts and transfer data to ESP.
If you set up everything qualitatively at the start, in the future you will not often turn to developers.
4. Hire an email marketer
For a small business, maintaining a full-fledged department with a copywriter, marketer, designer and layout designer is a luxury. The tasks of all these specialists can be handled by one email marketer who loves his job.
The main thing is that he can also analyze the data, build hypotheses and test them in practice not only knows how to compose a beautiful letter and create trigger mailings.
Building a strategy for a small company
Do not think that strategies are only for large corporations and retail giants. Even if you can't afford an experienced marketer yet, you can do the basic steps to build a strategy yourself.
Create a portrait of your target audience (TA). Write down the age, gender, education, preferences of clients. Analyze what products they are interested in, what they buy, how they make a purchase decision. Remember what people most often pay attention to: the level of service, warranty obligations, terms of delivery and return of goods, etc.
When you have a detailed portrait of the target audience, it will be easier to create a relevant offer. Data on geography, interests, education and other features of customers will allow you to personalize mailings.
And information about what devices and mailers they use will help improve the layout of messages.
Carefully study what your competitors perform: what and how they sell, what they focus on. Subscribe to their mailing lists to find out what approaches they use, what trigger messages they have set up, how subscribers are addressed, etc.
In addition, follow the industry leaders. Your task is to see the best examples to strive for.
3. Content plan for newsletters
Make a content plan for newsletters for a couple of months in advance. This way you will have a clear idea of who, what and when you are sending. It can be written in an Excel spreadsheet or Google Sheets.
Think about how often you want to send emails to clients. It's not worth bombarding them with promo mailings three times a day, otherwise people will start unsubscribing en masse, or even complain about spam.
Up to two emails per week are considered comfortable. Try to dilute promos with informational and other types of letters. In the plan, write down important newsworthy events – holidays and promotions that you plan to hold.
Create scripts to launch trigger mailings. These are automatic messages in response to user action or inaction. They are needed to build high-quality communication with customers. The list of required triggers includes:
     

subscription confirmation;

     

greeting letter thread;

     

order notification;

     

notification of payment;

     

dispatch of the goods notification;

     

abandoned cart reminder;

     

abandoned view reminder.
Depending on the specifics of your business, add other trigger emails over time (congratulations on birthdays and important dates, reactivation for those who have not completed targeted actions for a long time, etc.).
Email marketing has long been a necessary tool for businesses, regardless of their size. People are accustomed to receiving information, including advertising, from this source and trust it. It does not require huge financial costs and pays off well.
Therefore, you need to use the email channel and try to develop in order to keep customers interested in the product / service, as well as receive additional profit, which is very important for growing companies.
37 Comments